The award ceremony took place last night in Istanbul (Turkey)
Valencia, September 30, 2022. Vicente Boluda Fos, president of Boluda Towage, the international division of Boluda Corporación Marítima's port and maritime towage service, of which he is also president, was awarded last night in Istanbul (Turkey) with the Towage Shipowner of the Year Award, the highest worldwide recognition as shipowner of the year.
This event, now in its 26th edition, is organized by the prestigious towing industry magazine "International Tug & Salvage".
For the shipowner Vicente Boluda Fos, this international recognition is an "incentive" to continue with new expansions and investments towards other continents, after the last acquisitions in Northern Europe. A business initiative in which Boluda Towage is including new standards to continue being increasingly environmentally friendly.
The president of Boluda Corporación Marítima and president of Boluda Towage emphasized that for this totally family owned company "this award encourages us to continue being leaders in the international towage sector".
At present, Boluda Towage has a fleet of 400 ships distributed in the main ports of Europe, Africa, the Indian Ocean, Southeast Asia and Latin America, being the second company in the world in this sector.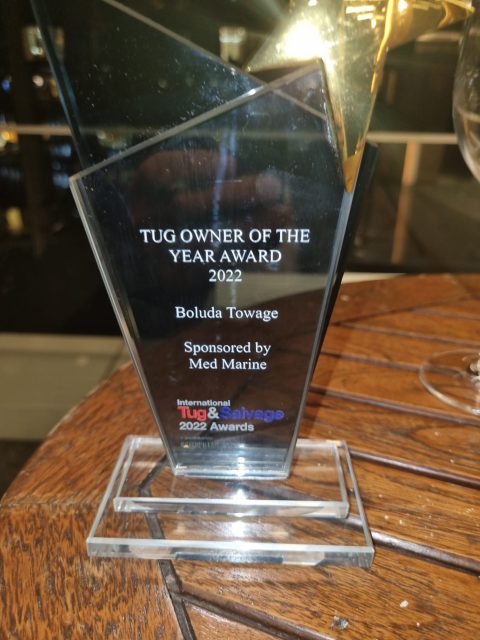 Award given to the shipowner Vicente Boluda Fos, which was accepted on his behalf by the CEO of Boluda Towage, Antonio Bordills.