• On September 17, around 3,000 spectators will attend the event to be presented by the Gran Canaria Philharmonic Orchestra, an event programmed within the 26thTemudas International Festival
• Boluda Lines provides, among other undertakings, 88 containers to collaborate with the design of the stage backdrop and backstage of the show at its facilities at Boluda Maritime Terminals Las Palmas
Valencia, September 12, 2022. About 3,000 spectators are expected to attend the Symphonic Concert to be presented next Saturday, September 17, at 22:00 hours, by the Philharmonic Orchestra of Gran Canaria at the facilities of Boluda Maritime Terminal Las Palmas, in the Muelle de La Luz, sponsored once again by Boluda Corporación Marítima.
The Gran Canaria Philharmonic, conducted by Josep Gil, returns to the XXVI International Festival of Theatre, Music and Dance (Temudas Fest) with its presence in the facilities of Boluda Maritime Terminals Las Palmas with a concert, "Madrid-London-New York", which offers a new vision on two of the great classics of the musical repertoire most beloved by the public, such as "Rhapsody in Blue" by George Gershwin and "The Three-cornered Hat" by Manuel de Falla.
For "Rhapsody in Blue" they will feature Marco Mezquida, renowned jazz pianist, improviser and composer, who will delight the audience with his version of Gershwin's famous work and its genuine jazzy feel. The Jazz Trio, formed by Marco Mezquida on piano, David Xirgu on drums and Marko Lohikari on double bass, will assume a new multi-soloist role in perfect combination with the OFGC. Antonio Serrano, undisputed ace of the harmonica, takes an emblematic composition such as Falla's "The three-cornered hat" to his own terrain with his own version that, while respecting its essence, discovers new expressive and instrumental perspectives.
The Temudas International Festival, organized by the City Council of Las Palmas, once again enjoys the collaboration of the Boluda Corporación Marítima, which sponsors the symphonic concert as part of its Corporate Social Responsibility policy to promote initiatives related to culture.
The open-air industrial stage made up of 38 40-foot containers and another 36 20-foot containers, provided by Boluda Lines, the shipping company of Boluda Shipping division dedicated to the integral transport service and international logistics of goods, will perfectly fit the sound in the 50,000 square meters occupied by this enclosure. A stage space that also has two Paceco cranes, which will be used to illuminate the area set aside for the musical performance, and 14 40′ containers to create the back stage area.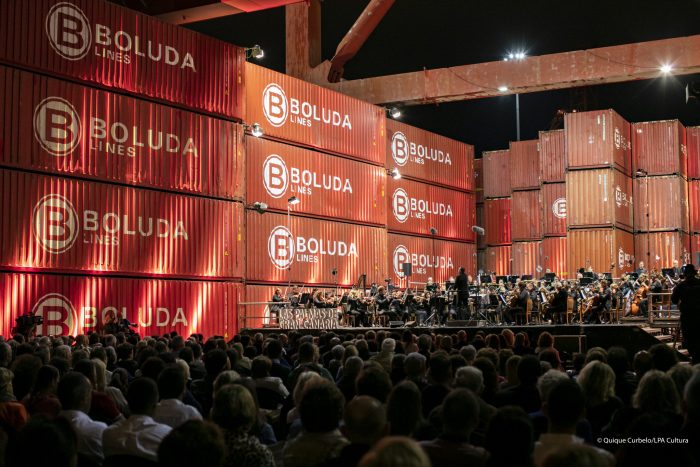 Concert held in 2019 at the Container Terminal of the Muelle de La Luz -Boluda Maritime Terminals Las Palmas-,
by the Philharmonic Orchestra of Gran Canaria, conducted by Karel Chichon.
Photo Quique Curbelo