This decoration, to be presented by French ex-president Sarkozy in Paris on 16 June, is in recognition of the Boluda Corporación Marítima CEO's professional career as a model of business in the international arena
Valencia, 11 February 2022
Boluda Corporación Marítima CEO Vicente Boluda Fos will receive the Knight of the Legion of Honour medal in Paris on June 16, in recognition of outstanding services rendered to France by the Valencian businessman, a distinction which will be awarded by former president of France Nicolas Sarkozy.
This award demonstrates Vicente Boluda Fos's commitment to the neighbouring country, in which Boluda France, a subsidiary of Boluda Towage's international towing division, plays a crucial role in the safety and operability of French waters and ports. Boluda France was created in 2007 after the purchase of the French company Les Abeilles, whose activity dates back to 1864.
"It is with great pride that I accept this award from the French Republic: I cannot begin to express my gratitude towards the country. As recognition of a job well done over all these years, to be among the Spaniards who have received this distinction is a true honour", declared Vicente Boluda Fos.
Among Spanish recipients of the Knight of the Legion of Honour medal are Joaquín Sorolla, Isaac Albéniz, Pedro Almodóvar, Cristóbal Balenciaga, José Carreras, Amado Granell, Miguel Induráin, Alicia and Esther Koplowitz, Alfredo Kraus, Paloma O´Shea, Gregorio Peces Barba, Rosa Regás and Vicente Santaolaria. In the international sphere, Mario Vargas Llosa is among those who have also received this award.
Former (2007-2012) president of the French Republic Nicolas Sarkozy will present the medal conferring the rank of Knight of the Legion of Honour during a private ceremony taking place at the Pavillon Vendôme, at Place Vendôme, 7, Paris on 16 June. French protocol establishes that only a person also distinguished with the Legion of Honour, in this case in the rank of Grand Master of the Legion of Honour, can award the medal.
Boluda Towage, also chaired by Vicente Boluda Fos, is along with the international transport and logistics division Boluda Shipping one of two strategic divisions of Boluda Corporación Marítima, which also has two smaller divisions: Boluda Port Services (providing services such as mooring, supply and boat transportation of material and personnel to ships) and VB Comisarios de Averías (which offers expertise in maritime accidents).
Boluda France
Boluda France currently operates in the French ports of Marseille-Fos, Marseille, Dunkerque, Le Havre, Brest, Nantes Saint-Nazaire, La Rochelle, in the French overseas departments on the islands of Reunion and Mayotte, as well as in the West African coast ports of Tangier (Morocco), Dakar (Senegal), Abidjan and San Pedro (Ivory Coast), Nouadhibou and Nouakchott (Mauritania), Lomé (Togo) and Douala (Cameroon).
Boluda Towage has a fleet of around 360 tugboats, operates in 100 ports in 19 countries, has a workforce of over 6,000 and possesses unparalleled experience in port services as the second leading company worldwide in the tug sector, owing to its good business practices, in which the French arm of the company has played a key role.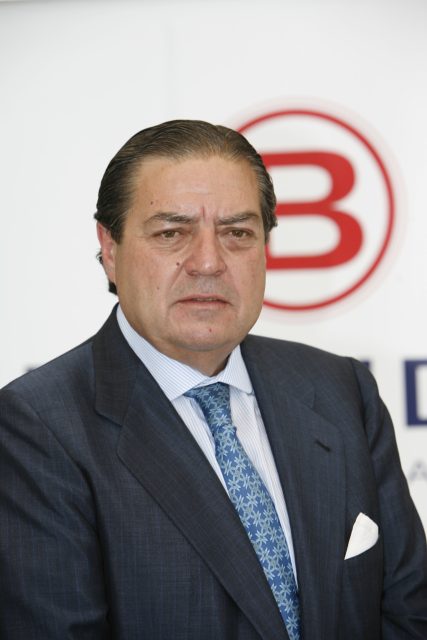 Vicente Boluda Fos, CEO of Boluda Corporación Marítima and Boluda Towage.